Classroom storage: You can never have too much. (Teacher fact #34529)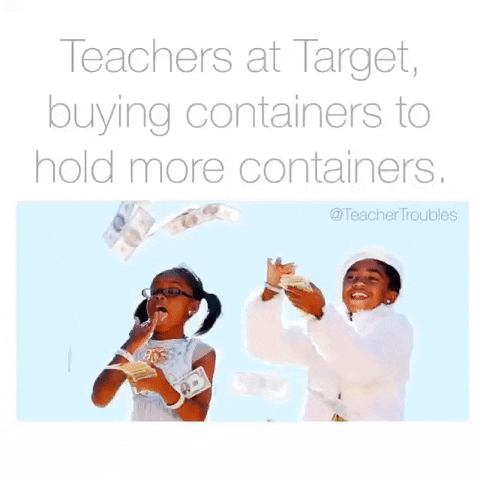 Here are a few of my favorite storage solutions that I've either used myself or spotted recently while aimlessly shopping online doing important research.
This post contains affiliate links. Prices are exactly the same for you, but I may receive a small commission if you make a purchase through one of my links. I use the money I earn through affiliate sales to fund giveaways throughout the year. It's a win-win! 🙂 
10 Classroom Storage Solutions to Help You Create a Functional and Efficient Learning Environment
1. Pencil Management
This picture comes from @glitterandglue4k2 on instagram. I love how she uses this small Sterilite desk organizer to corral those pesky but essential pencils and erasers.
She has the labels available as a freebie in her TpT store!
The exact storage unit itself is a little hard to track down online right now, but here are a few options I found. If you buy online, pay attention to the dimensions to ensure you get what you're looking for. This unit is the perfect size for pencils and other small items, but the stock photos make it look larger than it is. 😉
Amazon has a 6-pack of the small Sterilite 3-drawer organizers in black.
Wal-Mart has the same deal (the 6 pack of organizers is less expensive than a single unit – ha!).
Target has singles available, but they aren't exactly the same. They have similar units in white, navy, and black. I'm not quite sure whether the white and navy ones would work quite as well with the labels – it looks like the drawer fronts are sort of ridged, so that's something to be aware of if you want to replicate @glitterandglue4k2's cute setup below. 🙂
2. Anchor Chart Storage
Ok, how genius is this idea that Cheryl shared on her Primary Graffiti instagram account??? GENIUS. Using these handy-dandy "hanger holders" and some hangers with clips, she gets the anchor charts out of the way but still easily accessible. I love that you can easily put the charts you want on display in the front and change them out without a lot of aggravation. So stinkin' smart!
3. Math Manipulatives
This unit would provide amazing storage for any number of classroom treasures, but I especially love it for math manipulatives. Since the bins are open and tilted, it makes them super accessible to little problem solvers. At the time of this blog post, the unit is on sale (and the price is about the same) on both Amazon and Wayfair.
This unit is currently a little cheaper, but I've never seen it in person and there are no reviews. But if you're adventurous like that, it looks pretty good. 😉
4. Wall Storage
When it comes to classroom storage, leave no surface underutilized. These wall organizers are just the cutest things in the world. You can choose between the giraffe, the flamingo, and the crocodile. I should rephrase. I cannot choose between the giraffe, the flamingo, and the crocodile. I love them all so much. I *think* I'm partial to the flamingo, but I wouldn't kick any of them off of my wall. 😂
As a side note, finding these wall organizers led me down an internet shopping rabbit hole and I discovered that basically everything 3 Sprouts makes is completely adorable. Speaking of rabbits, a rabbit version would be super cute too. I digress.
5. Storage Ottoman Seating
We all know that classroom space is at a premium, so pieces that can pull double-duty are worth their weight in gold.
Remember that one summer when DIY storage crate seating was blowing up Pinterest and the teacher-blogger world? I had BIG PLANS. I was *totally* going to make my own amazing storage crate seating, just like Christi Fultz did here. I was totally going to do it, friends. I totally did not do it. This type B teacher just could not pull it off. But MAJOR PROPS to all those awesome teachers out there that made their own, like Christi's in the pic below.
You know what I did do? I bought 'em. Easy way out, all day, every day. 😀 I used storage cube ottomans as seating at my horseshoe table and they worked out great.  This was one of the bigger classroom investments I made, but I did not regret it. I bought mine at Target several years ago when they were on super-sale, so definitely keep your eye out for deals! They don't appear to be available for shipping right now, but these are the ones I bought if you want to try to track them down in-store.
Here is a TRULY terrible picture from my classroom, taken before I figured out how to use my iPhone camera to its fullest potential. You can barely see the storage ottomans – but that actually kind of makes it the perfect picture for this. *You can barely see the storage ottomans.* There are 6 of those bad boys under there! (If you're wondering what's up with the messy papers hanging all over the place, those are my homework hangers a.k.a. the ONLY homework collection system that has ever worked for me.)
I kept small group supplies like mini whiteboards, markers, etc. in them for easy access. I loved that I was able to push them all the way under the table when not in use to help facilitate easy traffic flow in the classroom.
These pop up in tons of different stores all the time, but here are a few options I found online for my fellow internet shoppers.
Leather? You fancy! These storage cubes (left-side pic) are a good option. Are you feeling EXTRA fancy? Go on with your bad self – add some tufting and buttons for the same price with this version (middle pic). Wayfair has another similarly priced leather option that gets good reviews.  Leather – or "leather", let's be honest – is actually pretty perfect for the classroom since it's so easy to wipe clean.
I'll be honest, I'm a sucker for a good stock photo. I buy so much stuff online and I hate when you can't get a feel for how big something is or what it will look like in real life. So the fact that grown adults are sitting on these storage cubes is indeed confidence inspiring. 😂 This version comes in a few different colors (love the chevron!) and there's even a bench version at a pretty good price.
The word "folding" scared me with these storage ottomans (left pic) – but after reading lots of reviews, they actually sound like they are plenty sturdy enough to function as seating for kids. These come in a few different colors and you can get them with or without legs. I looooove the pattern on these blue and beige ottomans (right pic). They come in a set of two on Wayfair and are a little more expensive than the others, but they are pretty. 😉
6. Teacher Supply Storage
This little cart can be found in classrooms all over the nation for good reason – it's awesome. It's perfect for just about anything…crafting supplies, teacher tools, paper organization, games, you name it. I especially love it for teacher supplies. It comes in a few different color schemes. My favorites are the multi-colored version and the black version. If you have lots of black and neon accents in your classroom, the black one would look super sharp! This is a seriously awesome little storage unit for the price.
7. Classroom Mailboxes
There are a million and one ways to organize student papers, but teacher life is pretty difficult without SOME sort of system. Finding the perfect classroom mailbox solution was the bane of my teacher existence. SEE EXHIBIT A:
Every time I look at that picture, my dreams are crushed all over again. But it's also pretty hilarious – the epic nature of my PinFail is so ridiculous that I have to laugh. I remember just being so incensed by the price of literature/paper sorters and determined to go the "cheaper" route.
Was this "cheaper"? Sure, the USPS boxes themselves were "free". But creating that monstrosity cost me many hours, a month's rent worth of duct tape, and 47% of my sanity. And it was completely toast after one year.
Luckily, my adventures in classroom mailbox making DID teach me a valuable lesson: Sometimes you just have to say no to that "easy! cheap! fun! simple!" DIY project Pinterest promises will change your life. Sometimes the best option – the sanity-saving option – is to BIY (buy it yourself).
My school year would have been infinitely more enjoyable had I simply purchased two of these bad boys for $17.99 apiece and moved on with my life.
Live. Learn. Pin wisely.
8. Student Supply Storage
Kristen from Ladybugs Teacher Files uses this little storage organizer to create awesome and functional "student toolboxes" to keep track of her students' supplies. You can read all about her system on her blog and purchase the labels she created in her TpT store.
9. Book Storage
When you have books, you need bins. Lots and lots of bins. Never once have I thought to myself, "Gee, I think I have too many containers." You can never have enough, folks. NEVAH!
This summer, the teacher internet was all abuzz over this amazing deal on 5 book bins (the good kind!) for $9.97. Score! This awesome deal appears to still be available on Wal-Mart's website, but I wouldn't expect it to last too long since we're already pretty deep into the back to school season. I've tried using the cardboard boxes from Ikea for student book bins, but they just topple over too easily.
Good containers can get expensive. If I had a fairy godmother who granted me unlimited funding, I would buy every single neon bin on Really Good Stuff's website. But since she must have gotten lost on her way to find me, I score tons of containers at yard sales, Goodwill, and thrift stores. Sometimes they need a very good scrubbing, but a little elbow grease can save you a lot of money.
If you aren't the second-hand type, make sure to check the Dollar Tree or whatever dollar store you have nearby. CONTAINERS FOR DAYS, Y'ALL. Stores like Big Lots, Christmas Tree Shops, National Wholesale Liquidators, etc. can also be treasure troves if you hit them at the right time of the year.
Target is obviously another of my go-to spots for container hoarding. The quality of the containers in Target's dollar spot has really gone up lately, as well. They used to be quite flimsy, but lately the quality and sturdiness has been a lot more impressive. However, any savings there are instantly lost if you are like me and can't leave Target without racking up a receipt the size of a mortgage payment. #dangerzone
Here are a few more options you can buy online. 
Sterilite baskets may not be the cutest or the prettiest, but they are kind of like the Tom Hanks of the container world. Dependable, hard-working, and guaranteed to deliver a solid performance. The flashy neon bins are the Kanyes – a lot of fun and way more exciting, but you can never really know for sure what you're going to get. Are they going to stick to the script or are they going to go rogue? Am I taking this analogy too far? Yes. I'll move on.
You can often find pretty good deals on Amazon: here's a 6 pack of small bins in white, a 6-pack of medium bins in black, and a 6-pack of large bins in white. I love that they're stackable for easy storage and strong enough to hold hardcover books without toppling over.
10. Large Item Storage
Foldable fabric bins are great because they are easy to store and hold a ton of stuff. I love using them for larger items like clipboards, mini whiteboards, etc. These chevron bins come in a variety of colors and patterns and are sold in packs for 2. Or you can grab a 6-pack of solid colored bins  in a range of colors.
I am also including this gold striped box simply because it's a sassy little number and I lurve it.
I am currently *completely and utterly obsessed* with the new Pillowfort line from Target. There is SO much fun, functional stuff that would be perfect for use in the classroom.
Their bin game is on point…
Striped bins? Check.  Gold polka dotted bin? Yes, please. Nautical bin? Ahoy. Geometric patterns? Nailed it.
While we're talking about Pillowfort, I think I'm most in love with these adorable play tents.  Maybe not *totally* storage related, but you could store your students in there! 😉 (It would make a super fun little reading nook though, to be honest.)
There are a million amazing ways to create a functional and efficient classroom – these are just a few ideas.  As with ALL things teaching-related, there's no wrong way to store your stuff.
Happy teaching!